SATURDAY, OCTOBER, 2
Terasaki Budokan, Los Angeles
The Legacy Continues . . . Most Spectacular Sumo Competition in North America, for 21 years!
Date: SATURDAY, OCTOBER 2, 2021
Tournament 12:00 noon (doors open 11:30 am)
Location: TERASAKI BUDOKAN (Little Tokyo, DTLA)
249 S Los Angeles St., Los Angeles, CA 90012
From 2001 – 2019, the US Sumo Open grew from about 1,000 fans to 5,000 fans. Despite severe restrictions, we kept the streak alive with the 2020 US Sumo Open, even with almost no one in attendance. NOW, in 2021, we can bring in larger groups again. Our go-to venue, the 5,000-seat Pyramid is not allowing large-scale events yet, so we're taking one step at a time, bringing the US Sumo Open back to the heart of Little Tokyo — to the brand-new Terasaki Budokan (an iconic Japanese sports & martial arts center)! In fact, the US Sumo Open will be the FIRST EVER large-scale sports event at this iconic venue!
As usual, for the 21st year in a row, you can look forward to spectacular competition, with many powerful international athletes competing. The action will be dynamic. 
Come on back to the biggest and longest-running sumo competition in the Western Hemisphere. We're back, and ready to attack . . .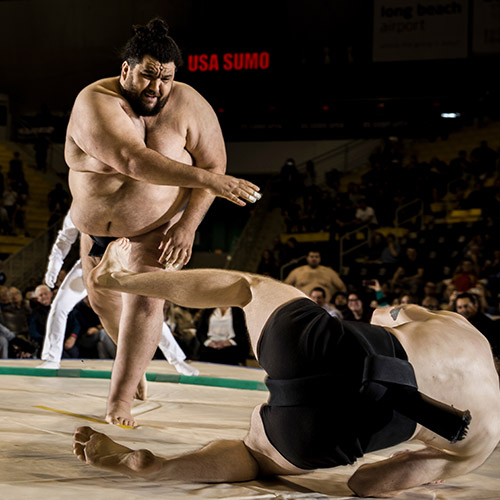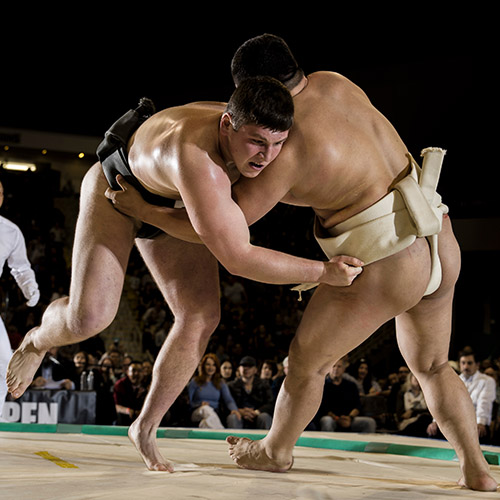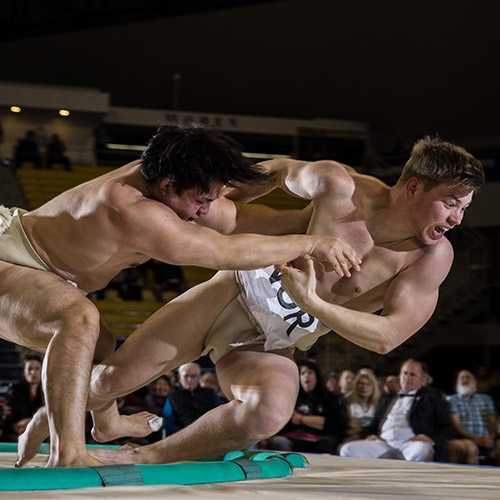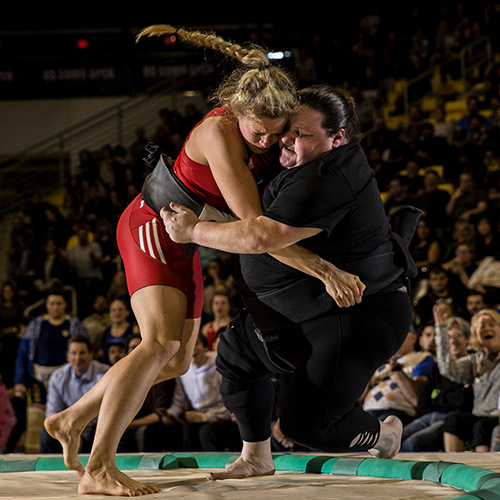 US SUMO OPEN TOP FIGHTERS
Among 60 wrestlers, HIGHLIGHT SUMO STARS include:
past US Sumo Open Champ, 520-pound Ramy (from Egypt). He's even beaten Byamba!
Mongolian Champions who have dominated the tournament for years!
Aloha Wave — 4 Hawaiians (one of whom is 630 pounds!!)
Defending Husband & Wife Heavyweight Champions, Jose & Yaleidy
24-time World Champion Anna (from Russia) is competing on U.S. soil for the first time
Don't miss this amazing field . . .
SCHEDULE:
11:30 am Doors open
12:00 pm Opening Ceremony
12:15 pm Women's divisions
12:45 pm Men's prelims
2:15 pm intermission
2:30 pm Men's Final Rounds
3:15 pm Women's Openweight
3:30 pm Men's Openweight
4:15 pm Awards Ceremony
TICKETS
Terasaki Budokan is a lovely new gym in the heart of Little Tokyo, but it's smaller than our usual 5,000-seat Walter Pyramid arena. If tickets sell out, we apologize to all our fans in advance. As larger venues allow us to use their space again in future years, we expect to return to the Pyramid or even bigger stadiums. Thank you for your understanding.
SEATING NOTES:
There are about 5 rows of G.A. seating behind the Ringside seats. Sumo competition will take place on an elevated stage, so line of sight should be decent, even in the back rows.
All seats will be within about 15 yards of the sumo ring, so everyone will be close to the action!
GROUPS of 20 or more: Please contact us for special rates.
GENERAL NOTES:
To catch all action, we recommend that you arrive when doors open at 11:30 am, as the tournament begins at 12 noon.
If you just want to see the finals, come after 2 pm, for the best matches!
The venue requires that all attendees wear a mask, when not eating and drinking.
No professional-grade camera or zoom lenses.
In the G.A. sections only, children 5 and under are free when sitting on a parent's lap.
Budokan parking is limited, but there are several large parking structures nearby.
Sapporo Beer & Hakutsuru Sake will be on sale at the bar.
Sumo Bento
Shin Sen Gumi deluxe bento lunch boxes will be on sale for $15, cash only. Rice balls (with seaweed & veggies) will be available, as a veggie option.
ATHLETES
2021 US SUMO OPEN Athlete Registration is Closed.
OFFICIAL HOTEL
MIYAKO HOTEL (328 E 1st St, Los Angeles, CA 90012)
Go to miyakola.com
Input the arrival/departure dates and hit "Book Now/Modify"
Under the dates there will be a "Special Codes and Rates". Click this and a box will appear. Click "Promo Code" on the left and select "Group Code". Input the group code (210930USAS) and hit "Apply". The rate is now $149 (+ tax) nightly. It was $136 (+ tax) nightly, but rates are increasing.