US SUMO OPEN
2019 US SUMO OPEN – 19th Annual
SATURDAY, MARCH 23, 2019
Walter Pyramid @ Cal State Long Beach
The US Sumo Open, top annual sumo event in North America, is back for year #19! Don't miss this amazing once-a-year opportunity, as one of 5,000 fans, to cheer on 60 international sumo wrestlers from 12 countries, while you enjoy Japanese taiko drumming, and savor fresh Japanese food, Japanese beer, and sake. Multiple World Sumo Champions will clash, as the drama continues in 2019 . . . be a part of sumo history!
Since 2001, the annual US Sumo Open has been a hallmark event, setting milestones in international sumo's growth. As the largest and longest-running, annual sumo competition worldwide, it's the only sumo event in North America where you can catch this caliber of international sumo, every year.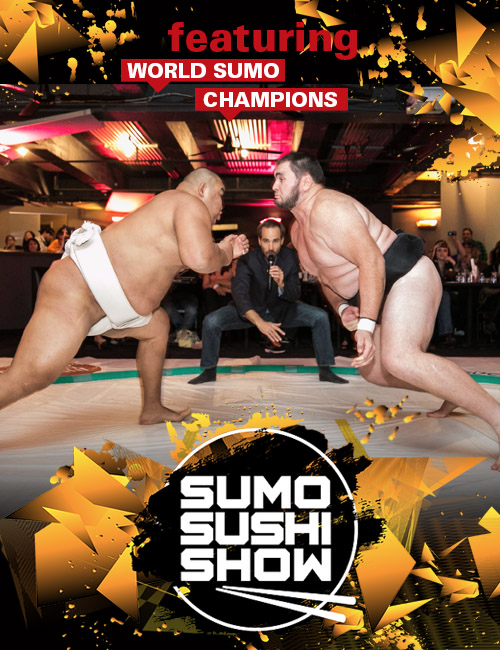 Savor SUMO SUSHI SHOWS !
An experiential smorgasbord — dynamic live sumo, comedy, culture, Q&A, audience challengers, and more!
Cheer on your favorite Titans, smashing just a few feet from your seat! Dine on gourmet sushi as the Sumo Stars go head-to-head. "Unique" is an understatement. This one-of-a-kind event is an interactive sumo demonstration with our REAL World Sumo Champions. This is an experience that you'll never forget!




LEARN
Enter the unique world of SUMO! This Japanese tradition is full of martial arts discipline, training, cuisine, and lifestyle. You can train in sumo, too . . .
SHOP 
More authentic sumo items, equipment, and fan goods are available.