We've worked for over 20 years with many legendary sumo stars from Japanese Grand Sumo. These Pro Sumo wrestlers have included the Hawaiian stars, top Mongolian yokozuna, and of course, numerous Japanese sumo heroes. 
Legendary Yokozuna Joins Our Sumo Practice
(October 12, 2019) Los Angeles, CA
Takanohana, the greatest Japanese Grand Champion in the past 30 years (with 22 Grand Sumo tournament titles) attended our sumo practice in Los Angeles, offering coaching advice, interacting with athletes, and doing some Q & A. It was a great honor to host him, and we appreciate his presence.
TV Documentary — experiencing Pro Sumo culture
(February, 2017) Japan
Our director was featured throughout the hour-long TV program, Japan's #1 prime-time Saturday show! He experienced immersion in Pro Sumo culture and tradition, throughout Japan, including visiting a mountain village to learn how the silk sumo belts are made by hand, plus visiting multiple Pro Sumo teams, to experience training, try chanko-nabe stew, interview the wrestlers & coaches, and much more.
Yamamotoyama USA Sumo Tour
(September – October, 2011) Nationwide
"YAMA" (pro sumo fighting name "Yamamotoyama" ) is an iconic sumo figure. At 6'4″, 600 pounds, he is not only the largest Japanese sumo wrestler ever, but he is actually the largest Japanese HUMAN ever! In 2011, he visited the U.S., to promote sumo, do media interviews, make public appearances, and raise money for the Japanese Red Cross, to help victims of the Fukushima disaster. Besides live sumo performances, Yama was invited to appear on Fox TV "Good Day L.A.".
He has been practicing sumo since 1990. After winning numerous university sumo championships, he reached professional sumo's highest division ("makuuchi") in only two years, the second fastest pace in history!
Grand Sumo Tournament Los Angeles
(June 7 – 8, 2008)  Los Angeles Memorial Sports Arena, CA
The 2008 Los Angeles Grand Sumo Tournament featured the entire top division of professional sumo. Yokozuna Asashoryu won the first day, while sekiwake Kisenosato won the second day. Asashoryu defeated Kisenosato for the overall champion title at the end of the second day.
USA Sumo coordinated the venue, the construction of the dohyo (clay sumo ring), and many media promotions. We also worked with the Japanese producer on event logistics, marketing, transport, and other bookings. Our Director Andrew Freund was the house announcer for both days of the tournament, just as he was announcer for Grand Sumo Las Vegas in 2005.
Musashimaru – 2006 US Sumo Open Special Guest
(April 9, 2006) Los Angeles, CA
MUSASHIMARU was a repeat special guest at the 2006 US Sumo Open, serving as commentator and judge. He also did a press conference and sumo demo with us in Little Tokyo.
Grand Sumo Tournament Las Vegas
(October 7-9, 2005) Mandalay Bay Hotel, Las Vegas, NV
Grand Sumo Las Vegas was the most spectacular sumo event, to date, in America. About 120 members of professional sumo participated, including the 37 best rikishi, while over 25,000 people attended the three-day tournament. USA SUMO worked throughout 2005 promoting the event, including producing the preview event – Grand Sumo Open – in Los Angeles.
USA Sumo Director Andrew Freund joined Hawaiian super-star Konishiki as co-announcer of the three-day competition.
Grand Sumo Open
(August 14, 2005) Little Tokyo, Los Angeles, CA
With over 4,000 fans in attendance, the Grand Sumo Open was the largest amateur event in the US to date. Some of the best amateur competitors fought for over $4,000 worth of prizes, including nearly $3,000 cash.
The very special feature of the event was the professional sumo demonstration, including pro rikishi, a professional referee, a professional ring announcer, and two Sumo stable masters. This was the first time that a mainland U.S. event combined both professional and amateur sumo exhibitions!
Musashimaru – 2004 US Sumo Open Special Guest
(April 6, 2004) Los Angeles, CA
Legendary Yokozuna MUSASHIMARU was cheered by 1,000 fans at the US Sumo Open as he greeted the crowd and participated in kagamiwari (sake barrel breaking ceremony). In celebration of the US-Japan anniversary, Musashimaru was joined by representatives of the Japan Foundation and the Consulate General of Japan.
Musashimaru at National Cherry Blossom Festival
(April 3 -4, 2004) Washington D.C.
Musashimaru joined us and US Sumo Open competitors for a special 150th anniversary commemoration of US-Japan relations. On April 3, Musashimaru and our members participated in two sumo demonstrations on the martial arts stage at the National Cherry Blossom Festival. 
In celebration of the US-Japan anniversary, Musashimaru was joined by representatives of the Japan Foundation and the Consulate General of Japan.
He coached our members and visiting students, studying Japanese language and culture.
Musashimaru and USA Sumo athletes attended a reception with the Japanese Ambassador, Ryozo Kato.
Sumo Clinic with Akebono
(August, 2003) Los Angeles, CA
AKEBONO offered an historic Sumo Clinic, the first time that an "oyakata" (pro sumo coach) and "yokozuna" (Grand Champion) coached international athletes in sumo in the U.S. He also participated with us in sumo film screenings, and other sumo appearances.
2003 US Sumo Open with AKEBONO
The 2003 US Sumo Open was a phenomenal competition, but the biggest surprise was when AKEBONO stood up from his announcer's chair, and stated, "I'm gonna fight." To the amazement of everyone present, he slipped out of his formal wear, walked to a corner, put on a mawashi, and fought seven matches against the champion athletes!
AKEBONO Festival Appearance
To promote the US Sumo Open, Akebono made special appearances, and gave a speech in a Japanese marketplace. This special presentation attracted huge crowds, and the beloved Hawaiian giant greeted his fans!
"Sumo East & West" Screening with Akebono
(August 1, 2003) Aratani/Japan America Theater, Los Angeles
We coordinated a movie screening "Sumo East & West" with AKEBONO and filmmakers Ferne Pearlstein and Robert Edwards. A screening was held of the groundbreaking film showing professional Japanese sumo and international amateur sumo, including footage of AKEBONO. AKEBONO gave an exciting speech and answered audience questions after the screening. Fans of all ages kept calling out questions for half an hour until AKEBONO had to be pulled out for his next appearance.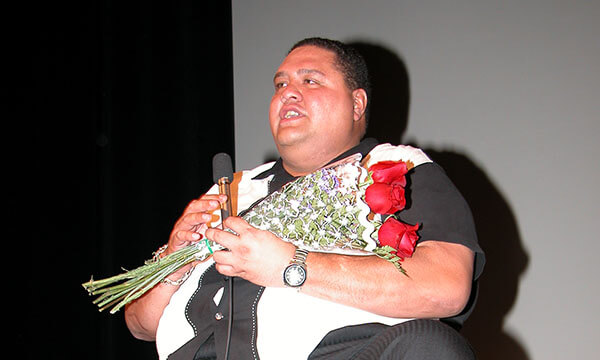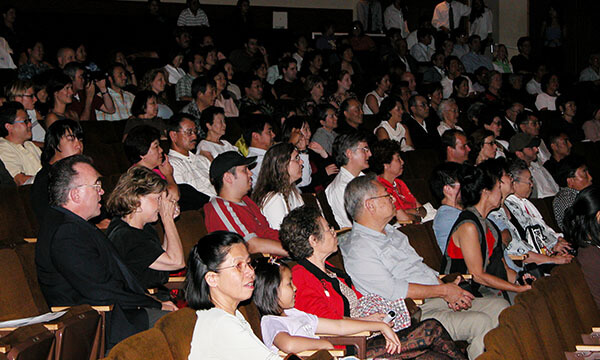 Konishiki – 2001 US Sumo Open Special Guest
(August, 2001) Los Angeles, CA
Hawaiian-born KONISHIKI is one of the greatest sumo wrestlers of all time, and the heaviest pro sumo wrestler ever, at over 600 pounds. KONISHIKI was the first foreigner ever to attain "ozeki" (Champion) rank in pro sumo, and was a groundbreaking force (pun intended) in the internationalization of sumo.
KONISHIKI's presence as a special guest attracted tons of adoring fans to the inaugural US Sumo Open. He also served as Nisei Week Parade Grand Marshal.