With over 100 festival appearances in 30 cities worldwide, we attract crowds who flock to, what is for many, a once-in-a-lifetime sumo experience! From Japanese cultural events to sports expos, museum events, and more, live sumo exhibitions are a highlight of any large public gathering.
The elite sumo wrestlers are the highlight of each festival, bringing crowds of thousands or even tens of thousands to their feet! Make your festival unique with the presence of exotic, elite sumo wrestlers! The sumo stars will also pose for photos and sign autographs for guests!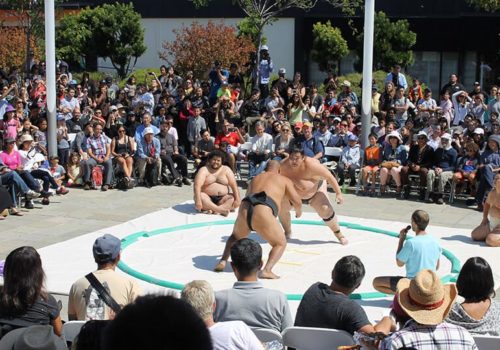 Sumo Exhibitions at the Japan Center Malls
(annually since 2012 — San Francisco, CA)
Sumo Champions perform all day long, every autumn, in Peace Plaza at the Japan Center Malls, for thousands of cheering fans! One of the most popular Free Sumo Champions Exhibitions, open to the public! This event is an annual highlight for San Francisco's Japantown.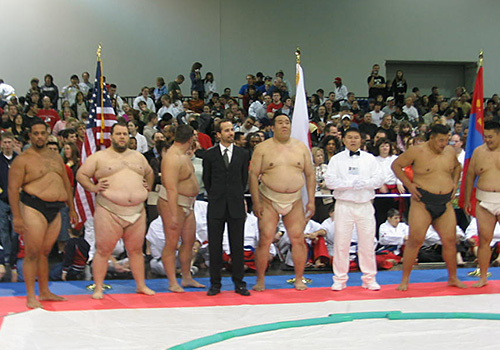 Arnold Sports Festival with Sumo Stars
(Columbus, OH)
We brought World Champions and former pro sumo wrestlers to the world-famous event, and were joined in the ring by Arnold Schwarzenegger himself!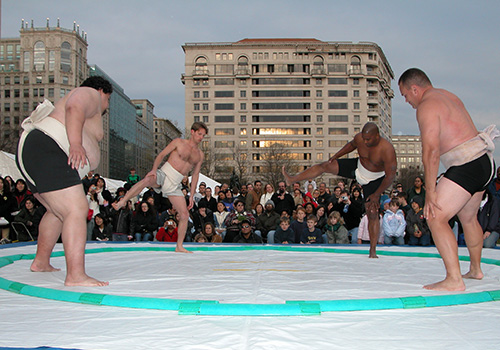 National Cherry Blossom Festival Sumo Shows
(Washington D. C.)
Grand Champion Musashimaru joined us for a special 150th anniversary commemoration of US-Japan relations in this festival. He also coached our members and visiting students of Japanese in proper sumo technique.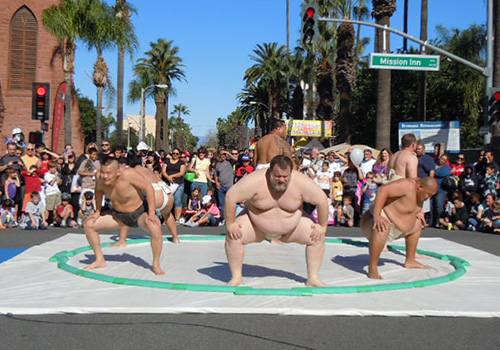 Sumo at Riverside Lunar New Year Festival
(Riverside, CA)
This festival is one of many that we've often performed at. Sumo wrestlers march in the parade, and show live action throughout the day!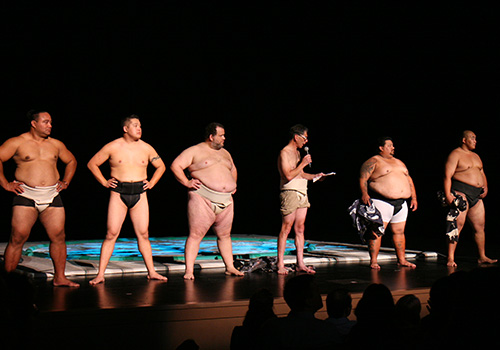 Live Sumo Shows at Film Festivals
(nationwide)
We've made many appearances promoting films, with Japanese themes, sumo scenes, martial arts sequences, and more. Live sumo demonstrations are a great way to engage the audience, in front of the big screen!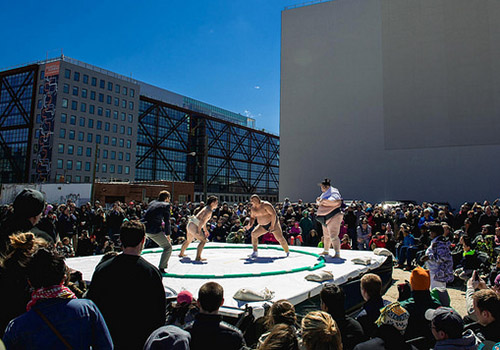 Promo Sumo Shows
(Washington D.C.)
This is one of many markets where clients have brought Sumo Stars in for public events, to promote new businesses and developments. This D.C. appearance was to promote a new real estate project.
ARCHIVES
Destination Asia Festival, Millard County Fair, Arizona Matsuri, Kansas Japanese Matsuri, Pasadena Cherry Blossom Festival, Asian Heritage Festival, Nisei Week Matsuri, Tofu Festival, Cupertino Cherry Blossom Festival, Temecula Children's Matsuri, Fresno Extravaganza, Tsunami (Santa Barbara), Los Angeles County Fair, Camarillo Cultural Day, Asian Heritage Festiva, City of Fontana Public Performances, Asia Pacific Museum Events, Morton Arboretum, Japan Center Malls, and dozens more!