Be a Part of the 20th Anniversary Tournament!
2020 US SUMO OPEN
Saturday, April 25, 2020
POSTPONED
2020 US SUMO OPEN — POSTPONED
(June 26, 2020)
Long Beach State University has canceled all third party events for 2020, so, sadly, we are not able to hold the 20th annual US Sumo Open at the Walter Pyramid this year. Therefore, we are now refunding all tickets for that tournament. If you purchased tickets, you can expect a refund soon.
We deeply appreciate all fan support for two decades, and we still expect to reschedule the US Sumo Open for later this fall, at a smaller venue, possibly viewable only by live-stream. We do want to keep the 20-year streak alive!
Thank you for your patience, and please stay tuned. We expect to have further updates for you all in July . . .
20th Annual


2020 US SUMO OPEN
A MUST-SEE sumo milestone . . SPECIAL EDITION of the longest-running and largest sumo tournament in the world, outside of Japan!
Celebrate 2 decades of US Sumo Opens with Japanese food & drinks, plus Japanese taiko drumming, while you see the best international sumo wrestlers in action.
Thank you to all fans for being a part of the US Sumo Open, since 2001. The 20th annual US Sumo Open promises to be the strongest competition yet with 80+ athletes from around the world, flying into Southern California!
HIGHLIGHTS
Don't miss the Main Event (5 pm – 8 pm), featuring top sumo talent, and the Openweight class competition where skill and strategy can overcome size!
Prelim matches are 11 am – 2 pm, qualifiers for the Main Event. Ticket holders can attend all day, but 5 pm – 8 pm is a MUST-SEE.
Sumo Byamba Tribute (1984 – 2020): Celebrate the life of this World Champion.
Over 80 international sumo wrestlers competing, from around the world. Biggest Athlete Field Yet.
Special Historical Videos on the Jumbotron — Feel 19 years of Action!
Sumo Champions' Archival Highlights — Top Stars since 2001 . .
20th Anniversary Ceremony.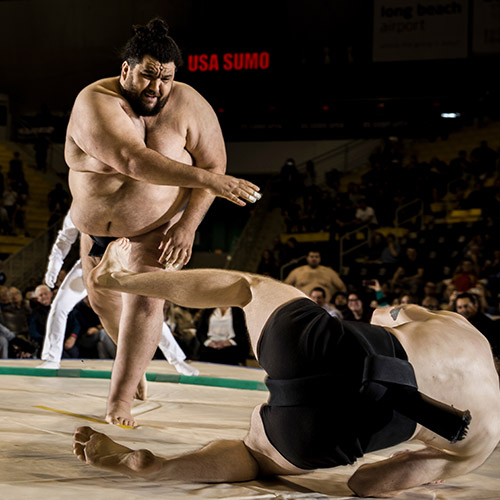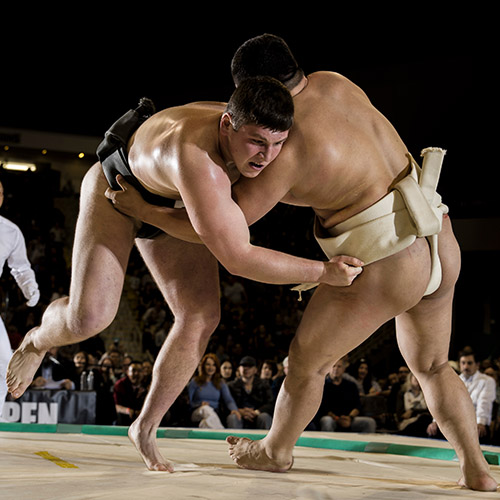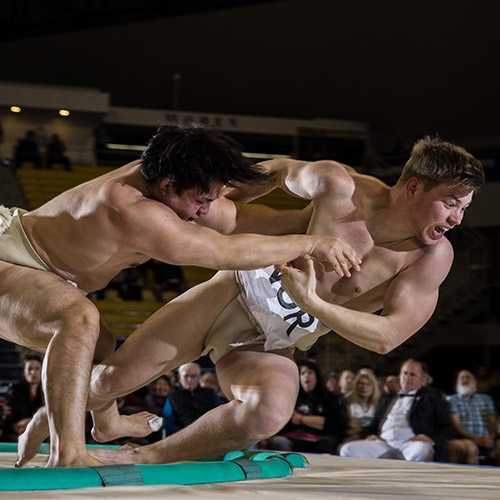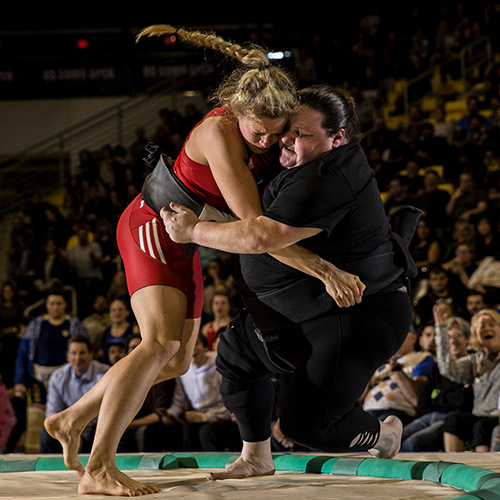 Among 80 athletes, here are some of the big names to watch!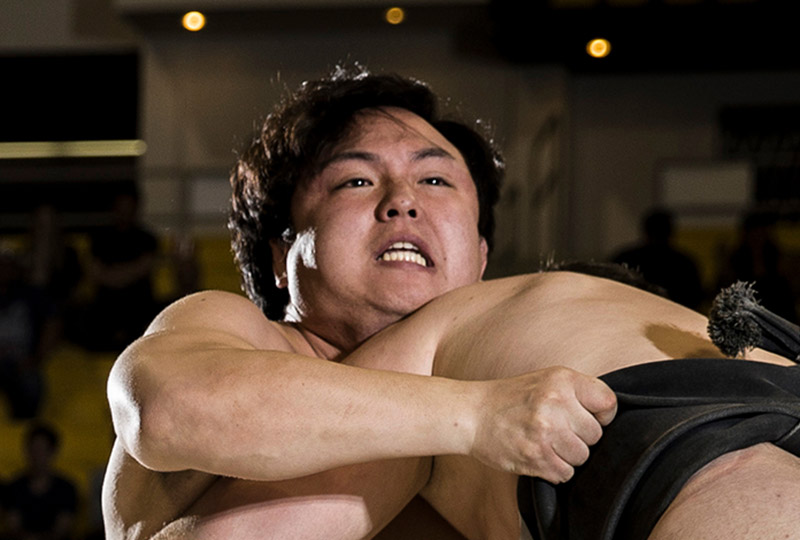 TAKESHI AMITANI
Japan
5'7″, 220 lbs
The 5-time Japanese National University Champion, Takeshi has competed for 4 years at the US Sumo Open, winning gold twice — in both Middleweight and Openweight. An under-sized giant killer!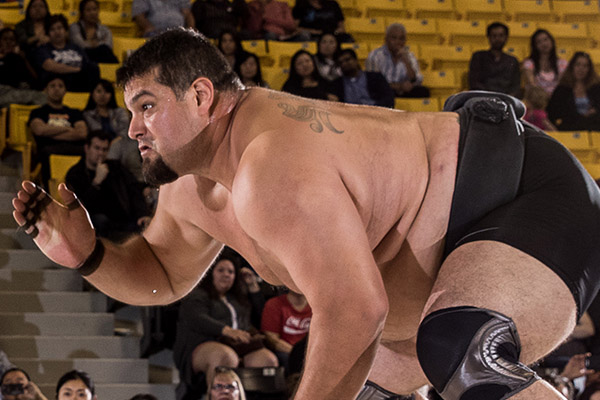 ROY SIMS
USA
6'5″, 380 lbs
The most dominant American heavyweight in recent memory, with a bronze medal at the Sumo World Championships, Roy has also won 2 gold medals at the US Sumo Open, and many more podium appearances.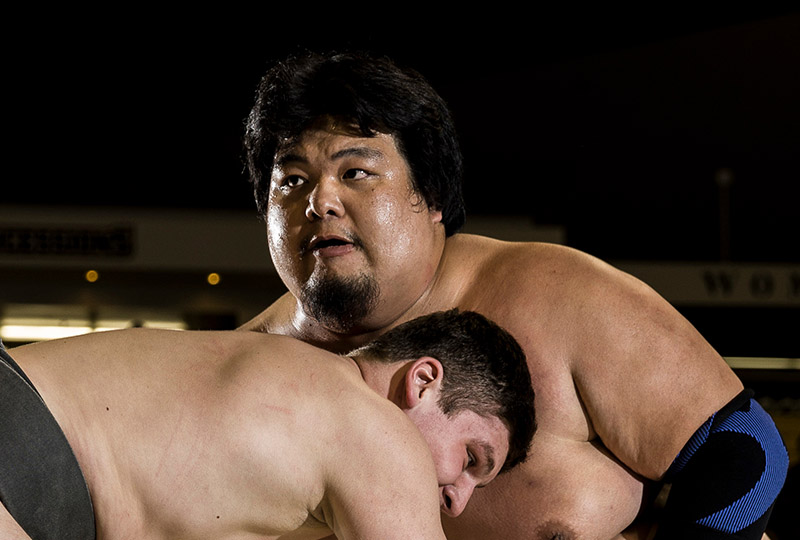 HIROKI  SUMI
Japan
6'4″, 495 lbs
Competed for 12 years in Pro Sumo, reaching sekitori status, and also medaled in the 2019 US Sumo Open, but is looking for gold this time!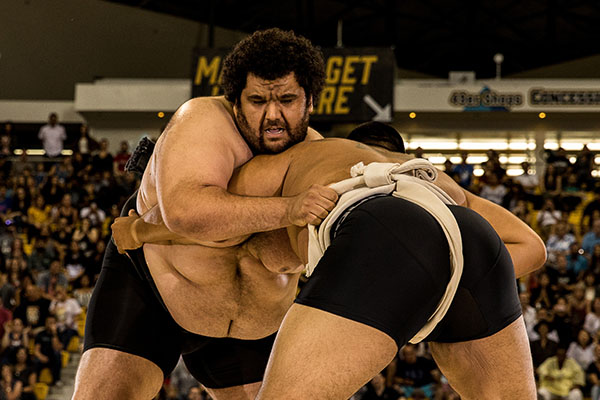 RAMY  ELGAZAR
Egypt
6'3″, 501 lbs
A perennial US Sumo Open contender, he's won medals for all 5 years that he's competed, including a gold medal in 2015. He's also the heaviest athlete in the competition!
ATHLETES
Please contact us for Athlete Registration Information.
US SUMO OPEN BACKGROUND
As the largest and longest-running, annual sumo competition worldwide, outside of Japan, the US Sumo Open has been the first to bring Pro Sumo Grand Champions as special guests, the first to pioneer women's matches in American tournaments, the first to feature multiple World Sumo Champions in a single event, and the first to include former top-ranked Pro Sumo wrestlers in competition!
Since 2001, the annual US Sumo Open has been a hallmark event, setting milestones in international sumo's growth, including multiple national TV broadcasts on Universal Sports Network. We're proud to be pioneers in developing this ancient martial art in the United States.
The competition level is also spectacular, with over 700 international athletes who have wrestled. Most of these competitors have been National or World Sumo Champions — from 40 different countries. This is the only sumo event in North America where you can catch this caliber of international sumo, every year.