SATURDAY, MARCH 23, 2019
Walter Pyramid @ California State University Long Beach
MAIN EVENT 1 pm – 4 pm
Doors open at 10 am for Prelims
Don't miss the 19th annual US Sumo Open! This is the largest, longest-running sumo tournament in the world (outside of Japan). You can cheer on 50+ international Sumo Champions from a dozen countries.
Collectively, these athletes have 7+ World Sumo Champion titles, and decades of Pro Sumo experience. This is top-notch, dynamic action!
An opportunity like this comes just once a year in the Western Hemisphere . . with competitors expected from USA, Canada, Japan, Norway, Mongolia, India, Sri Lanka, Egypt, Tajikistan, Georgia, Ukraine, Russia, Poland, Germany, and more!
Enjoy Japanese taiko drumming between matches, and savor fresh Japanese food, Japanese beer and sake, while you yell with excitement.
Be sure to catch all the elite action during the MAIN EVENT (1 pm – 4 pm). The OPENWEIGHT matches are amazing — at times, a 180 pounder has defeated a 500-pound opponent . . .
Die-hard fans with 6 hours free can come early, to catch preliminary matches from 10 am.
We're back at the Pyramid for the 6th year in a row, a venue with the largest big screen monitor (for replays) of any campus in the country! Get ready for a thrilling competition. Who will be the 2019 Hero?
The Walter Pyramid
1250 N Bellflower Blvd, Long Beach, CA 90815
Phone: (562) 985-4949
TICKETS
BLEACHER SEATING – All GA, i.e. no assigned seating
FLOOR SEATING – All Assigned Seating
via Pyramid Box Office
Experience the Sumo Stars, up close and personal! VIP seats are just 5-10 yards from the stage. You will also enjoy faster check-in at the lower entrance, and reserved seating.
only via USA SUMO
Ringside-A (first row): $150 — SOLD OUT
Ringside-B (second row): $120
Ringside-C (third row): $100

There are no surcharges, mailing costs, or handling fees on Ringside tickets. You also get faster check-in at the lower entrance, and reserved seating. There are the BEST seats in the house, and sell out quickly. Ringside tickets are non-refundable.
SEATING TIPS
* For FLOOR SEATING, purchase early, to get the best locations (assigned seating).
* For BLEACHER SEATING, show up early at the venue, to choose the seats you like best.
NOTES
* CAL STATE LONG BEACH — CLEAR BAG POLICY. See the official policy for more info.
* STUDENT DISCOUNT — only $10. Please use your Cal State Long Beach student ID!
* No pro-grade cameras allowed. Attendees may shoot video or photos for personal use only (not for posting or broadcast). Thank you.
* Children 5 and under are free WHEN SITTING ON A PARENT'S LAP ONLY. No lap-sitting allowed in the Ringside section.
* For GROUP sales discounts (20 or more people), please contact us.
* Please note that the Pyramid Box Office may charge additional surcharges to ticket purchases.
Among 50 athletes, here are some of the big names to watch!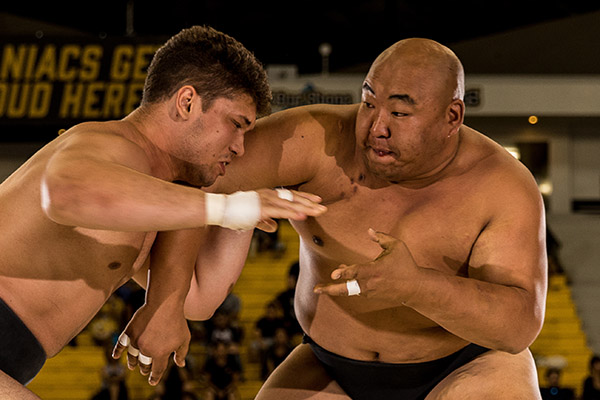 BYAMBAJAV ULAMBAYAR
Mongolia
6'1″, 353 lbs
Japanese Pro Sumo (5 years)
World Sumo Champion (4x)
US Sumo Open Champion (10 years)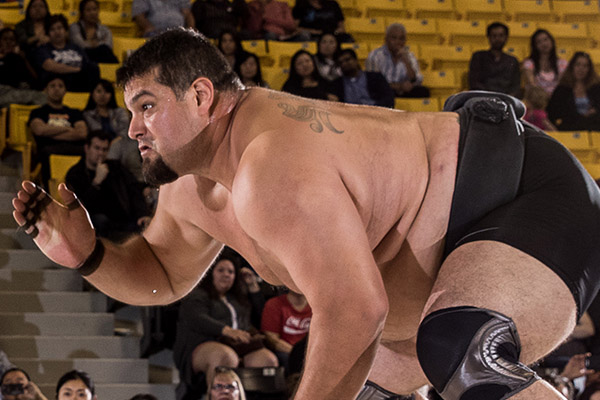 ROY SIMS
US – CA
6'5″, 378 lbs
'16 World Sumo bronze
US Sumo Open Champ (2x)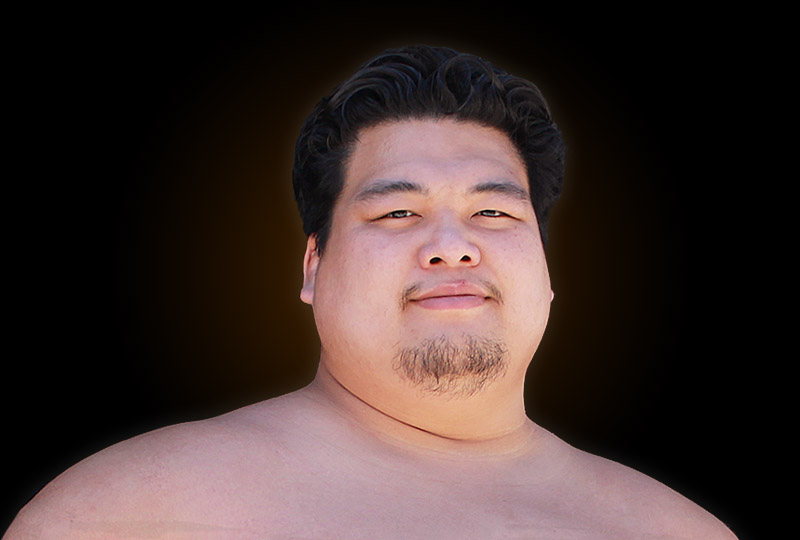 HIROKI SUMI
Japan
6'4″, 485 lbs
Japanese Pro sumo (12 years)
WWE competitor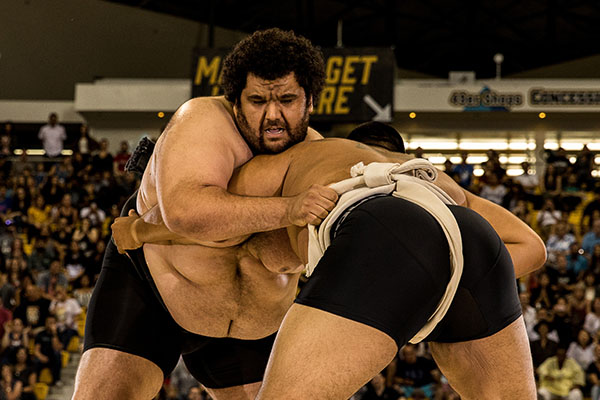 RAMY ELGAZAR
Egypt
6'3″, 484 lbs
US Sumo Open Champion ('15)
US Sumo Open medals (4x)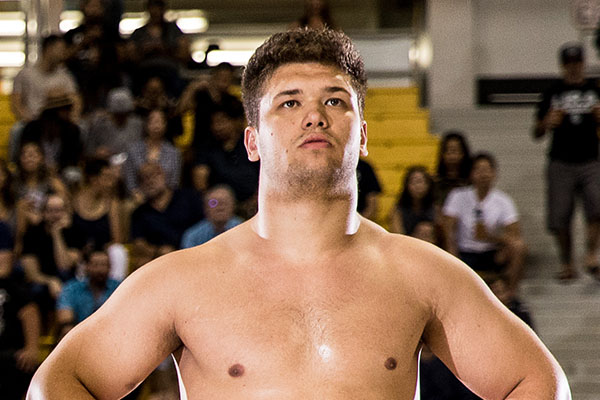 KONSTANTIN ABDULA-ZADE
Russia
6'0″, 243 lbs
US Sumo Open Champion ('18)
US Sumo Open Silver ('16, '17)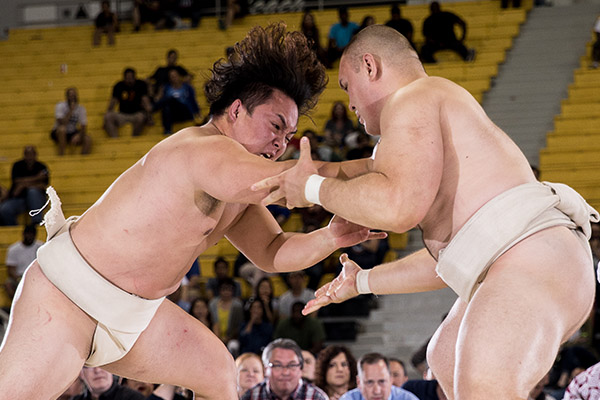 TAKESHI AMITANI
Japan
5'7″, 245 lbs
US Sumo Open Champion ('17)
University Sumo Champion (5x)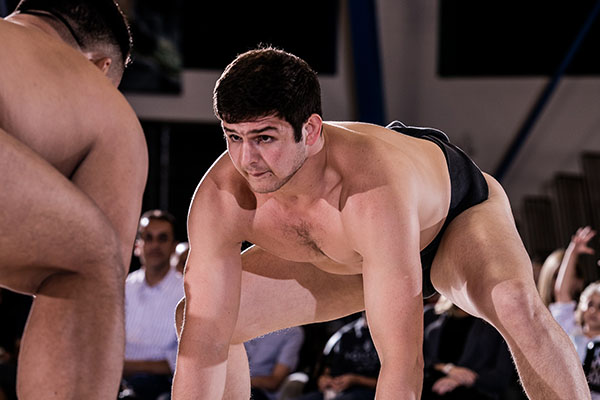 BATYR ALTYEV
Russia
5'10", 187 lbs
World Sumo Champion (2x)
US Sumo Open Champion (2x)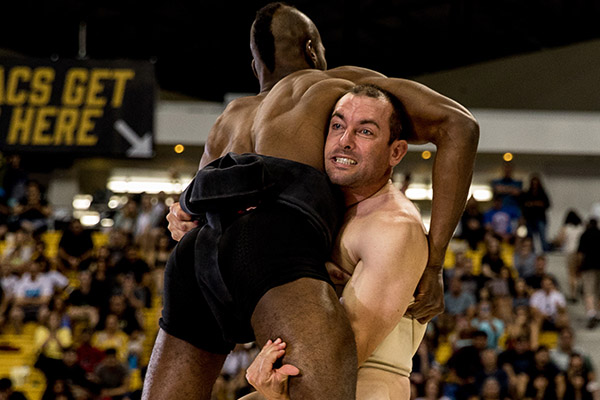 TRENT SABO
US – ID
5'8″, 187 lbs
World Games silver ('17)
US Sumo Open Champion (2x)
The 2019 US Sumo Open will incorporate a new weight class, added recently, worldwide. Classes are as follows:
Men's Weight Classes
Lightweight: up to 85 kg (~ 188 lbs)
Middleweight: up to 100 kg (~ 221 lbs)
Light Heavy: up to 115 kg (~ 254 lbs)
Heavyweight: over 115 kg (254 lbs +)
Women's Weight Classes
Lightweight: up to 65 kg (~ 144 lbs)
Welterweight: up to 73 kg (~ 161 lbs)
Light Heavy: up to 80 kg (~ 177 lbs)
Heavyweight: over 80 kg (177 lbs +)
All competitors may also compete in Openweight, in addition to their own weight-based class.

ATHLETES: Registration deadline is February 23, 2019.
OFFICIAL HOTEL
Hotel Current
5325 East Pacific Coast Highway
Long Beach, CA 90804
Please contact Nia (800-990-9991) and mention "US SUMO OPEN" to get a discounted rate of $129 + tax per night (or $169 + tax for a suite).
Hotel Current includes free breakfast, heated pool, free internet, free parking, and free shuttle service (5 minutes to the Pyramid!). Booking deadline is February 20, 2019.
US SUMO OPEN BACKGROUND
As the largest and longest-running, annual sumo competition worldwide, outside of Japan, the US Sumo Open has been the first to bring Pro Sumo Grand Champions as special guests, the first to pioneer women's matches in American tournaments, the first to feature multiple World Sumo Champions in a single event, and the first to include former top-ranked Pro Sumo wrestlers in competition!
Since 2001, the annual US Sumo Open has been a hallmark event, setting milestones in international sumo's growth, including multiple national TV broadcasts on Universal Sports Network. We're proud to be pioneers in developing this ancient martial art in the United States.
The competition level is also spectacular, with over 400 international athletes who have wrestled. Most of these competitors have been National or World Sumo Champions — from nearly 30 different countries. This is the only sumo event in North America where you can catch this caliber of international sumo, every year.
SPONSORS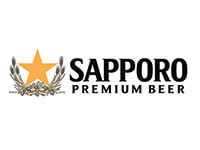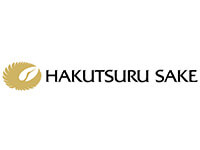 SUPPORTERS