Sumo is fantastic entertainment. In the inaugural Sumo+Sushi series with LivingSocial, all 11 shows sold out in just a few minutes of posting online! This started the ball rolling for over 130 shows, nationwide. This kind of admission-based event is generating a new entertainment phenomenon! Sumo acts, with dramatic acrobatics, contortions, tumbling, smashing, stunts, and comedy, are available for live shows, circus appearances, red carpet events, and much more.
Sumo Sushi Shows
Meet our Sumo Champions up-close, at the Sumo Sushi Shows! The 90-minute performance includes sumo training, rules, comedy, and REAL sumo matches, capped off by some audience challengers! Post-show, line up to take your photo with the World Champions, too!  The Sumo Sushi Show is a live event that you'll never forget! This is the coolest show in the world where you can see REAL World Champs in action while enjoying gourmet dining. Don't miss these unique events.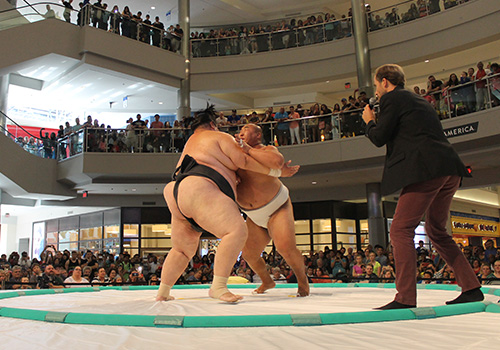 World Sumo Champions' Exhibitions at Mall of America
(Minneapolis, MN)
Three World Sumo Champions (nearly 1,400 pounds, with 7 collective World Champion titles!) performed multiple sumo demonstrations — a very unique event. Throughout the day, over 10,000 guests watched the Sumo Champs in action from every level of the mall surrounding the Plaza!  Guests spent hours, lining up for photos with the sumo stars.
Sumo + Sushi Show National Tour
The original country-wide tour was a huge hit, building interest in sumo, with sold-out crowds. Sumo legends toured 13 cities (hitting many locations multiple times for repeat sessions), with 104 total Sumo+Sushi shows in the first cycle. Now, the intensity is even greater!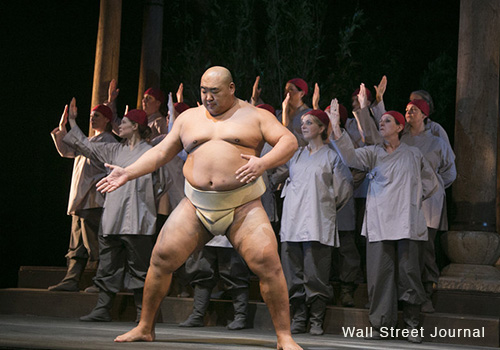 Canada Opera Performances
Sumo wrestlers in a famous opera? This is the kind of cool juxtaposition that makes a show one-of-a-kind! According to the Wall Street Journal: "Some aspects are more akin to performance art, such as a fight between two sumo wrestlers,…"  Read More